Changes in Mental Health as a Predictor of Cannabis Coping Motives and Consequences: Examining the Impact of COVID-19 among College Students
Abstract
Objective: Cannabis use is common among college students and many students use cannabis to cope with negative affect. The COVID-19 pandemic was a particularly stressful time for college students. Subsequently, the present study compared college students who reported increases in anxiety/depression symptoms since COVID-19 stay at home orders to those who reported no change in anxiety/depression symptoms on cannabis coping motives, use frequency, and negative consequences. Specifically, we examined whether self-reported changes (i.e., group that indicated increases) in poor mental health during COVID-19 were associated with problematic cannabis use via higher cannabis coping motives. Method: College students (analytic n = 291) completed an online survey for research credit regarding their personal mental health, COVID-19 stressors, and cannabis use behaviors. Results: Individuals who reported increased depressive symptoms (57.4% of the current sample) due to COVID-19 (as compared to individuals whose depressive symptoms remained the same) reported significantly higher cannabis coping motives (d = .79) as well as more cannabis consequences (d = .37). Further, students who reported increased (61.5% of the current sample) anxiety symptoms (as compared to those whose anxiety symptoms stayed the same) also reported significantly higher cannabis coping motives (d = .47). Moreover, we found that students who reported an increase in depressive/anxiety symptoms reported more cannabis consequences via higher endorsement of cannabis coping motives while controlling for gender, cannabis use frequency, and past-week anxiety/depressive symptoms. Discussion: Providing resources for substance-free coping strategies to manage the mental health impact of COVID-19 may be extremely useful for this population.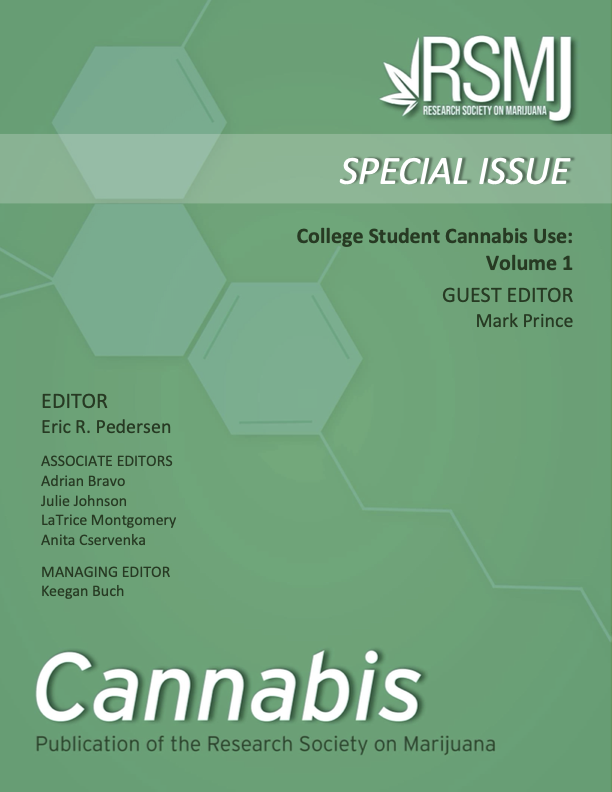 Downloads
License
Copyright (c) 2023 Rebecca Dunaief, Adrian Jorge Bravo, James Henson
This work is licensed under a Creative Commons Attribution-NonCommercial-NoDerivatives 4.0 International License.